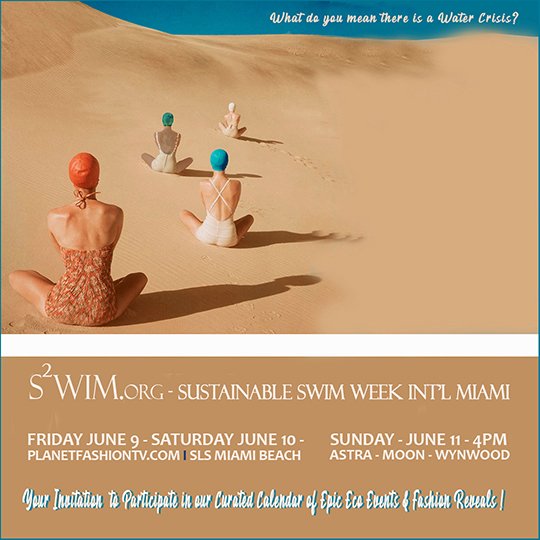 DRAFT MAY 10, 2023
S²WIM (Sustainable Swim Week International Miami) Endorses Planet Fashion TV at SLS Miami Beach, Friday – June 10 and Saturday – June 11
the Conscious – Couture – Canni Reception & Fashion Reveal is slated for the Luxe Roof Top Astra, Sunday – June 11 – Wynwood Art District
"Take a Deep Dive into a More Sustainable Future."
Miami, FL/ Sustainable Swim Week Int'l Miami (S²WIM.org) – June 9 – 10 -11, 2023 continues to evolve as a community based, global fashion centric eco system. Events and Gatherings are endorsed from Bahrain to Beverly Hills and Beyond, S²WIM.org is where "Green" is the new "Black".
With Planet Fashion TV at the forefront at this year's Swim Week move to June; the most venerated Swimwear Show in the World will be impacting the Southland and global fashion leaders for an entire month. Countless fashion centric gatherings are set to embrace distinguished apparel designers, who 'follow the thread'. Each event uniquely advocates ethical and environmentally aware apparel, manufacturers advancing best labor practices, philanthropic non-governmental organizations and a constellation of caring individuals.
Appearing on the official Earth Day Calendar in Miami, April 15 and 16 the first Annual Sustainable Lifestyle Conference served as a stellar leadup to Miami Swim Week. In evidence was a 'hand in glove' collaboration between Planet Fashion TV, the Miami Downtown Development Authority and Mana Fashion Services with Celia Evans at the production helm. It is their mission, "to foment a fashion community that supports sustainability, technology, and entrepreneurship, "according to uber Developer, Moishe Mana. "Especially for micro, sole proprietors and start-up businesses," states Celia Evans, Founder of Planet Fashion TV, "We have reached the tipping point. Global has become local, where fans of fashion, creators of art and music and those dedicated to doing 'the good work' participate in ongoing, illuminating, hands-on examples of what living in a sustainable planet really means".
Our previous Four Runway Shows-https://www.dropbox.com/sh/cw3uzmij6p89f5q/AACucJi__rKnanRyX8Ss9btFa?dl=0
Vector International Pictures (Vipictures.com) 5th Annual curated calendar of Sustainable Fashion Reveals (S2wim.org) highlights Planet Fashion TV's two-day Event at the luxurious SLS Miami Beach this coming Friday and Saturday, June 9 & 10. A full roster of participating designers will be announced by May 20th.   Planet Fashion TV- made the cut in Woman's Wear Daily, May 8 – 2023! https://wwd.com/fashion-news/activewear/paraiso-miami-beach-sets-schedule-1235633491/
A Cannabis & Couture Reception is in development by McConnell Enterprises, VIPictures.com and Co-Modeco among others.  The wind-down reception and cat walk of eco fashion is slated to unspool at Astra Rooftop Lounge / the Moon Eatery – Sunday afternoon – June 11 in the Wynwood Art District.
Paraiso Miami Beach-https://www.paraisomiamibeach.com/ partnered with Sports Illustrated Swim Event and Ocean Drive Magazine are also planning luxurious activations.  VIP access to all the Top Events is also available through McConnell Enterprises, Eatup. Events and associates.
For the first time in almost two decades, Swim Week Runways in Miami will present designer collections to the media and press one month earlier, June 8 – 11, 2023 followed by the Miami Beach Convention Center Trade Show and Expo coinciding with Cabana ™ and countless other activations, events and receptions throughout the entire swimwear June to July Season.
There is still time to fold accessory, eco-friendly products and bespoke brands into plans the  upcoming Planet  Fashion TV – Sustainable Swim Week & Canna & Couture VIP Reception in Miami.  "Carpe Diem! Visibility for ongoing projects, start-ups, legacy brands and services will indisputably benefit from being part of these ongoing Top Drawer – A-List – Eco Driven Activations at Swim Week 2023," confirms Ryan Deramus, VP of Business Development for S2wim.org and Compact Modular Eco Homes.
The stated Mission of S2wim is to A. Know Our Impact B. Advance Solutions C. Reverse the Damage We have Done. D. Share More. E. Consume Less.
Balancing style with substance while celebrating collaboration, the creators of these fashion forward events aim to improve the well-being of our planet and those who reside on it. The 4th Annual S²WIM and endorsed gatherings unspool amid sugar sand beaches, Venetian inspired canals and a growing sense of planetary urgency.
Guests and participants alike are increasingly moved by the power of sustainable lifestyles to bring well-being to Our Planet. Together, we the people, are empowered to amaze, enchant and provoke. Consume Less. Share More.
Don't Throw anything  away. There IS NO Away. And habitable Planets are few and far between.
Cristiane Roget –
Press & Media Relations
Co-Modeco Co-Founder
310-220-9118
@ecoworldluxury